Hong Kong is home to a diverse and competitive early childhood education system. Deciding when to begin pre-primary education, which school to enroll in, what programs to choose, and understanding all the application dates and requirements can be confusing and stressful. This article will break down the early childhood education scene in Hong Kong and provide all the key information you will need to make the best decision for your child.
What is early childhood education? 
According to the Education Bureau of Hong Kong, formal education is compulsory at 6 years of age. Early childhood education is the education that is recommended for children from birth to 6 years. These early years of development and learning usually center around developing a strong foundation for children. Typically, schools will focus on five developmental areas: Physical development, social development, emotional development, language development, and cognitive development. Some schools, such as Tutor Time, will also include a sixth area called 'approaches to learning', which focuses on school readiness skills like being able to follow directions and pay attention in class. 
Physical development:

Fine motor skills like picking up small objects, holding a pencil, tying shoelaces and so on. Gross motor skills like crawling, walking, throwing, jumping, and more. 

Social development:

How your child interacts with other children and adults, including playing together, having manners, taking turns, sharing, showing empathy and more. 

Emotional development:

Learning to identify emotions in themselves, expressing them with words, finding healthy coping strategies for unpleasant emotions, and reading other people's emotions. 

Language development:

Producing sounds from their native language(s), learning to say words, phrases and sentences, and learning to read and write. Bilingual learning is most effective in these early stages because children are rapidly absorbing language concepts, and can have

positive effects

in other areas of development.

Cognitive development: Learning problem-solving skills, logical thinking, abstract thinking, and more. At Tutor Time, these skills are learned in a specific order that is built off of Piaget's Theory of Cognitive Development.
Why is early childhood education important? 
One of the reasons early childhood education is so important is because children's brains are a lot more flexible or 'plastic' compared to adult brains. That means they are more susceptible to change (both good and bad), and providing positive early educational experiences can shape their brain development later in their lives. Early childhood education provides a structured approach to learning that can help optimize this period of development. Additionally, studies like this one done by Harvard show that children who attended early childhood education programs were less likely to need special education in middle and high school, less likely to be held back a grade, and more likely to graduate from high school. 
Furthermore, early childhood education lays a strong foundation for essential skills like literacy skills, numeracy skills (counting, early arithmetic, logic etc.), school readiness skills, and more. Being in a school environment also gets children used to interacting with other children their age, and it also gets them used to the school routine, which is essential for transitioning to primary school. 
In Hong Kong, it is common to see children begin their pre-primary education as early as 6 months old because it prepares them for the Nursery program, which in turn prepares them for the Kindergarten program. At Tutor Time, we call this the School Readiness Pathway, as each program builds on the previous to provide a smooth transition to primary school.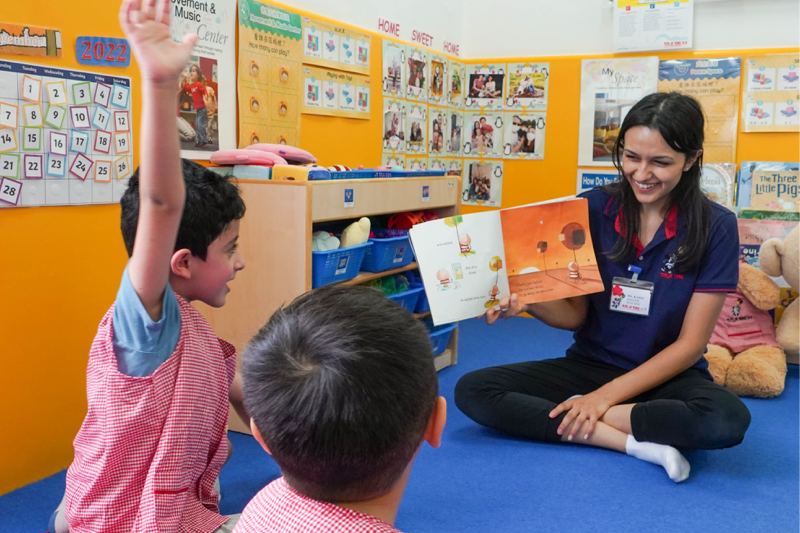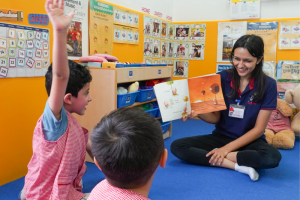 What are the early childhood education options in Hong Kong? 
Hong Kong provides many options for families to begin their journey in pre-primary education. 
6 months to 2 years old: playgroup (activity group)
The earliest programs often start at 6 months old to 2 years old, and are known as 'playgroup' or 'activity group'. Playgroup is usually attended by both children and their caregivers, since children are not yet capable of being alone. Playgroup is particularly helpful in socializing children to other children and getting them used to the classroom environment, while engaging them in age-appropriate activities such as sensory play, fine motor activities, cognitive challenges and more. 
2 to 3 years old: nursery (pre-nursery)
The next program after playgroup is called Nursery or Pre-nursery (PN) for 2 to 3-year-old children. The goal of pre nursery is to lay a strong academic and social foundation for Kindergarten. It's a transitional stage since children go from accompanied playgroup classes to unaccompanied nursery classes, which often presents challenges in the form of separation anxiety. Pre Nursery curriculum often focuses on pre literacy and pre numeracy skills, which ensures that children are ready for more rigorous academic studies in Kindergarten. This is also the time to consider what languages you want your child to learn as language skills develop rapidly at this age. 
3 to 6 years old: kindergarten
Kindergarten is the final step before primary school. Kindergarten programs are designed for 3 to 6-year-old children and are usually split into three stages: Kindergarten 1, 2 and 3. Each stage works like a building block to provide a strong foundation for the next stage. For example, in Kindergarten 1, children will probably learn to recite the alphabet, learn sight words, and practice fine motor skills to get them ready for writing. In Kindergarten 3, children will be able to read, write and speak in the languages that are taught at school and at home. 
At Tutor Time, we provide a full School Readiness Pathway starting with 6-month-old activity group programs all the way through Kindergarten 3. Each Tutor Time program is conducted in both English and Mandarin in a fully-immersive environment, which builds a strong language foundation for children to thrive in a multicultural city like Hong Kong. 
What are the different types of preschools in Hong Kong?
Preschools in Hong Kong vary to a great degree. Some centers only offer playgroups, while some offer the full playgroup to Kindergarten pathway. The benefits to choosing one that provides a full pathway is that these schools often offer priority for students who want to continue in their programs E.g. from playgroup to pre nursery, from pre nursery to kindergarten. 
Since the compulsory school age in Hong Kong is 6 years old, all Kindergartens in Hong Kong are privately owned. They generally fall into one of two categories: non-profit-making (NPM), which make up roughly 75% of kindergartens in Hong Kong, and private independent (PI). These are further divided into local and international kindergartens. Generally speaking, non-profit-making kindergartens and private independent kindergartens mostly differ in language of instruction and teaching approach. NPM kindergartens usually fall into the local kindergarten category, which place more emphasis on Cantonese, and often employ a more rote learning approach. Local private independent schools will often be bilingual or trilingual and employ a variety of learning approaches. International private independent schools often focus on English, with some opting for a bilingual curriculum, with a more hands-on learning approach and a focus on developing a global mindset.
It is still highly recommended that you get to know the specific schools that you are interested in and schedule a school visit to learn more.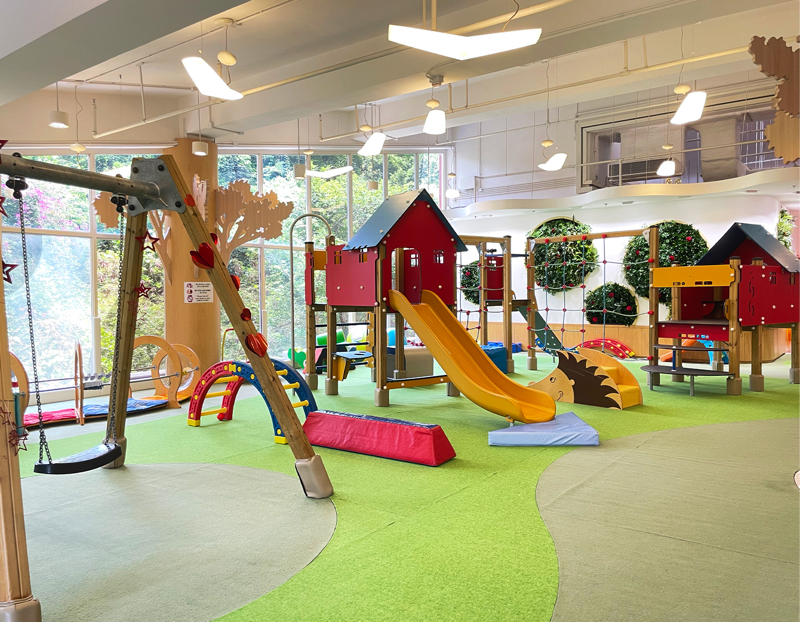 How to choose an early childhood education program for your child
Besides budget and location, there are a number of other important factors that should be considered when choosing the right preschool for your child. 
Licensed kindergartens
Be wary that while all pre nursery and kindergartens in Hong Kong must be registered and licensed by the Education Bureau in Hong Kong, centers that only offer playgroups do not. Licensed centers have to abide by strict regulations that protect those that attend the premises. It's best to clarify this point directly with your preferred provider.
Teaching approach
Teaching approaches vary between each preschool. Some may follow international standards like the International Baccalaureate or specific pedagogical approaches like Montessori, while others may create their own proprietary curriculum. All of these approaches have merit depending on what you expect for your child. 
Campus environment
Space is a luxury in Hong Kong and not every preschool can have expansive classrooms and playgrounds. Are outdoor playgrounds important for you? Do you envision a specific classroom environment? Visiting the school premises can give you a better idea of the campus environment.
Teacher-to-student ratio
Each school and program also has different teacher-to-student ratios. Generally, the lower the ratio the better, since it means that the teacher can pay more attention to each individual student. 
Teacher qualifications
Hiring teachers happens at each preschool's discretion. Do you expect your children's teachers to have specific qualifications and/or experience? If so, you should ask your preferred schools directly. 
At the end of the day, choosing a pre-primary education provider is a highly personal decision. The best thing you can do is to do the research and get all the information you need to make an informed decision. 
Conclusion
Over the past two decades, it has become increasingly clear that pre-primary education is not just something that children should do 'for fun'. In a world that is more globalized and interconnected than ever before, preschool provides the perfect launching pad for your child's education, and ensures that they have a strong foundation to tackle challenges in the next stages of their lives. Choosing a preschool in Hong Kong can be a daunting task, but once you understand your own priorities and what to look for, you can quickly weed through the ones that are not suitable for your child. Hong Kong has no shortage of top-tier preschools and with the right resources and research, there's no doubt that you will find the perfect fit for your child.
Resources:
– Early childhood education in HK: https://www.edb.gov.hk/en/edu-system/preprimary-kindergarten/overview/index.html
– Study about benefits of ECE: https://eric.ed.gov/?id=EJ1161123
– Study about positive effects of bilingual education: https://www.google.com/url?q=https://www.ncbi.nlm.nih.gov/pmc/articles/PMC4442091/&sa=D&source=docs&ust=1678680038212883&usg=AOvVaw0BeeUShWqIcGNMzonBgdRc 
– Piaget's theory of cognitive development: https://simplypsychology.org/piaget.html 
– Children's brain development overview: https://developingchild.harvard.edu/resources/inbrief-science-of-ecd/ 
– Study on long term effects of ECE: https://journals.sagepub.com/doi/abs/10.3102/0013189X17737739?journalCode=edra